Rapid Ric & Tosin - Devil's Cove
06-25-2010, 01:24 PM

Post: #1
tosin
Admin - Tosin In This Mutha Fucka


Posts: 31,472
Joined: Feb 2009
Reputation: 10
Rapid Ric & Tosin - Devil's Cove

CLICK COVER TO ORDER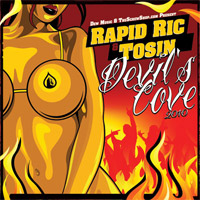 $5.00
RAPID RIC & TOSIN - DEVIL'S COVE
Quote:Dew Music and The Screw Shop are definitely in the building...or should we say the cove. If you're not familiar with Devil's Cover, don't worry. You probably seen something like this before. Devil's Cove is a weekend boat party out on Lake Travis out in Austin packed with college tail, bikini-clad rump shakers and oiled up breezies. Rapid Ric & Tosin kick off the festivities with a nice lil' mix of Down South sh*t, mixed the f*%k up so when the alcohol sets in, you ain't gotta worry bout the music. This is that real Texas sh*t, so enjoy. "They Keep Havin To Call Out The Mixtape Mechanicccccc"
01 Devil's Cove 2K10 Intro - Rapid Ric
02 Inkredible - Trae ft Lil Wayne & Rick Ross
03 Bring It Back - 8Ball & MJG ft Young Dro
04 Miss Me - Drake
05 Lose My Mind - Young Jeezy
06 Patron - Paul Wall
07 PLP (I Can Pimp) - Rapid Ric ft Gerald G, Dorrough, Lil Boosie & Chalie Boy
08 U Bop'n - Tam Tam ft. 6 Tre G
09 Get Big - Dorrough
10 Maserati - Fat Pimp
11 Loose As A Goose - Lil Boosie
12 Look Like Money - Chalie Boy
13 Feel Real Good - GT ft Fat Pimp & Dorrough
14 I Bet I Bust - B.O.B. ft T.I.
15 Imma Rep Texas - Chamillionaire
16 Round House Rockin - Swagg Kingz ft Yung Black & Juci
17 Daddy Stroke - DJ Mr Rogers & The Party Boyz
18 Fooli Wayne - Lil Sicc ft Gerald G
CLICK COVER TO ORDER

Messages In This Thread
Rapid Ric & Tosin - Devil's Cove
- tosin - 06-25-2010 01:24 PM
User(s) browsing this thread: 1 Guest(s)